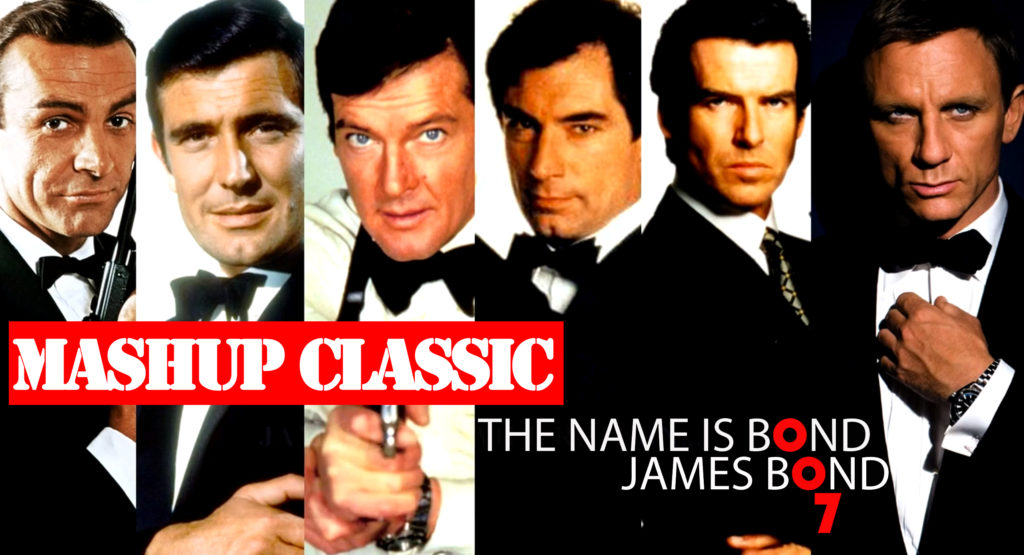 As the 24th adventure from James Bond, Spectre has been released earlier this month, I thought it would be nice to deal with him on this blog. Always ready to kill with his Walter PPK, on his Majesty's secret service, the spy who loved me is back in a new film which divides the critic and the fans. I won't give you my opinion, sorry, because I am here to talk about Spectre but about the man who only lives twice as a MashUp icon. This article will be full of nice videos,for your eyes only, dear audience.
Let's start with a masterpiece hommage MashUp releaesd last month but before Spectre got released:
I highly recommend to you his author Joris Faucon Grimaud and his channel. A page in our encyclopedia should be soon dedicated to him.
The two next MashUps confront the many actors that have given life to our beloved spy throughout time. The talent shown by their authors is quite obvious. The Bonds meeting at the Casino Royale hightlights the continuity throughout the episodes, trends and actors make only one character which seem to be living in a paralell universe where luxury and taste seem timeless but nevertheless delightfully antiquated. This first MashUp by Simianj suffers from a repetitive music, but the fun is of course so present  we won't mind it :
In this another serie of confrontations, Brad Hansen chose sounds from the videogame adaptation from GoldenEye for the Nintendo 64. This game is a real classic, probably the best and most renowned game on the James Bon universe. The MashUp uses terms from the FPS games (First Person Shooter) that gamers know such as 'Round', 'Rematch' etc. Gamers love the night, James Bond loves the living daylights and MashUpers love to play with images day and night:
Since the James Bond saga does use the same esthetic codes and themes which are standardised and sometimes repetitive, it is the perfect playground for obsessives MashUpers who are expert of the supercut art. I provide you here only a sample of what can be found on the web. Of course, the famous « gun barrel » sequence has aroused the curiousity from these Supercutters. You can find here the most innovative work, in my humble opinion, that gather altoghever all the guns barrel sequences in the same time while many other MashUpers just edit them one after the other:
From the bottom of the ocean in Thunderball  to space in Moonraker, James Bond uses his licence to kill when he needs it and never without the humour and the cynicism he is famous for. This work from Auralnauts, who already did the same thing with Arnold Schwarzenegger and Silverster Stalonne (among others), is truly delightfull and efficient even though the work remains quite basic :
Now that you know which James Bond killed the most ennemies, I guess it would be time to introduce him to you, don't you think ? James Bond loves saying his (so common) name every time he gets the opportunity to say it :
James Bond is a drunk, but you already know that. Daniel Craig takes repsonsibilty for it in Quantum of Solace and Pierce Brosnan drinks to forget his ex in Tomorrow never dies, two classic scenes, among others. But if you really want to make sure he is a drunk, you can watch here all the drinks he had over the past 50 years (cheers!) :
This selection of MashUp was quite on a light tone until then, but it will be different for this MashUp about women who are so dear to the man for who the world is not enough. I will spare you the classic "top James Bond girls" you can fin everywhere for this very differing point of view:
Let's get back to fun with this creation by Jerkish Delight that wittingly mixes roles of Sean Connery in The diamonds are forever and Zardoz released in 1971 and 1974. This incongruous mix offers us a very funny and yet efficient trailer:
I can say the same about this trailer of the serie Dukes of Hazzard mixed with Live and let die and also a few shots from The man with the golden gun. Even if, like me, you don't know this serie, you will laugh. This MashUp highlithts the flaws from the 8th James Bond adventure on screen:
And fianlly, I could not deal with the James Bond universe without the music. Whether the song are huge succeses like Goldfinger, Die another day or Skyfall (among others!) or huge flaws (Octopussy, A view to a kill, in my opinion), Dr No classical theme remains immortal. It can be mixed with Mission: impossible theme and it does not sound incongruous, on the contrary:
James Bond is now a myth in the pop culture. He is a never ending source of inspiration for the internet users. Their reappropriation of the myth takes many forms and is a source of inspiration for many talents. I just selected here a few drops in  an ocean of MashUps existing on Youtube that proves it is not a marginal art: it is a true cultural practice with many MashUpers sharing their work. Let's spread the word and praise their work!
Do not hesitate to speak your mind in the comment section and please share your favourite James Bond MashUps or maybe even your own work!
From France with love (not in Russia, sorry!).
Menou, James* Menou
* it is actually my second surname, for real!